REBELLIOUS ROCKSTAR
Gina Azzi
Release Date: June 1
FREE IN KINDLE UNLIMITED
Stellina. Little star. Allegra Rousell is too bright for my world; I know it the moment I meet her. She's my bandmate's little sister. An innocent, naïve, never-been-kissed sweetheart. I should leave her alone. I should keep my mouth shut. But when Allegra is hurt by her best friend and crush the night she turns seventeen, I cross a line. I kiss her. Brand her. Dim some of her spark with my darkness. And it changes the course of both our lives forever. Grab Your Copy! https://geni.us/rebelliousrockAmazon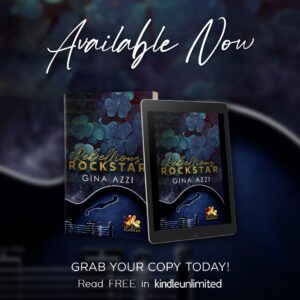 REVIEW
Reviewer: Tammi
Rating: 4.5 Groupie Stars
I was hooked by the prequel novella!
Badboy Rockers are a weakness of mine. Damaged badboy Rockstar I can't get enough of!!
This is somewhat of a second chance because our couple has a deep meaning moment in their past and neither have forgotten.
How can I not love this story!!
Our hero is hot as he77, ALL s@x, drugs & rock n roll and broken.
Our heroine is sweet, loving and lost trying to find who she is and where she belongs.
I was reading as fast as I could needing to know where this is going, slowing down because I didn't want the book to end.
I thought I might be getting to the ending I want.
Then PLOT TWIST the author hits me with a cliffhanger.
I want to choke and then hug this author. I need the next book NOW
This is the first I have read by Gina Azzi but most definitely won't be the last.
Meet Gina Azzi:
Hey Lovelies! Thanks so much for stopping by! I'm Gina Azzi, a book-obsessed, coffee-drinking, globetrotting, mama of three! I write steamy Contemporary and Sports Romance books with heartwarming happily-ever-afters. A Jersey girl at heart, I spent my twenties living and working abroad before settling down in Ontario, Canada with my family. When I'm not dreaming up storylines or writing all the words, you can find me hanging with my littles, attempting to bake, or planning my next adventure. Keep up with Gina Azzi and subscribe to their newsletter:
https://ginaazzi.com/
To learn more about Gina Azzi & their books, visit
here
!
Connect with Gina Azzi:
amkusinovels@gmail.com
Hosted By: